4SR leathers tested by TÜV Rheinland
Wednesday, 15. April 2020
We have read some recent "Internet" claims that leather is only abrasion-resistant for 4.12 seconds, and, that a certain brand of motorcycle jeans, which are made from a different "material" are actually more resistant to abrasion. Well this really isn't the case and we would like to share our recent leather testing results with you. The leather from which we make 4SR products for you and our professional racers in MotoGP, WSBK or BSB would last much longer than 4.12 seconds. But how much longer?
We selected some of our leather products, sent everything to the German certification centre TÜVRheinland® and awaited the test results.
What was the result?
Fine Waxed Leather - From which we make some of our jackets, easily withstood the test according to EN 13595-2: 2002 and lasted 8.82 seconds.
1.2mm Cow Hide - Leather from which we produce our 1pc Suits, 2pc Suits and Leather Trousers surpassed this value and the test lasted an incredible 11.2 seconds!
What does this mean?
In order to qualify as LEVEL 1 or LEVEL 2 then our product "material" must meet the requirements of the standard set. This test simulates a speed of 8m/s (17,4mph).
Level 1
- The material must be abrasion-resistant for 4 seconds. To give this a real-life scenario, you can slide on your backside for approximately 32m before the material wears through.
Level 2
- The material must be abrasion-resistant for 7 seconds. Which means you can now slide on your backside for approximately 56m.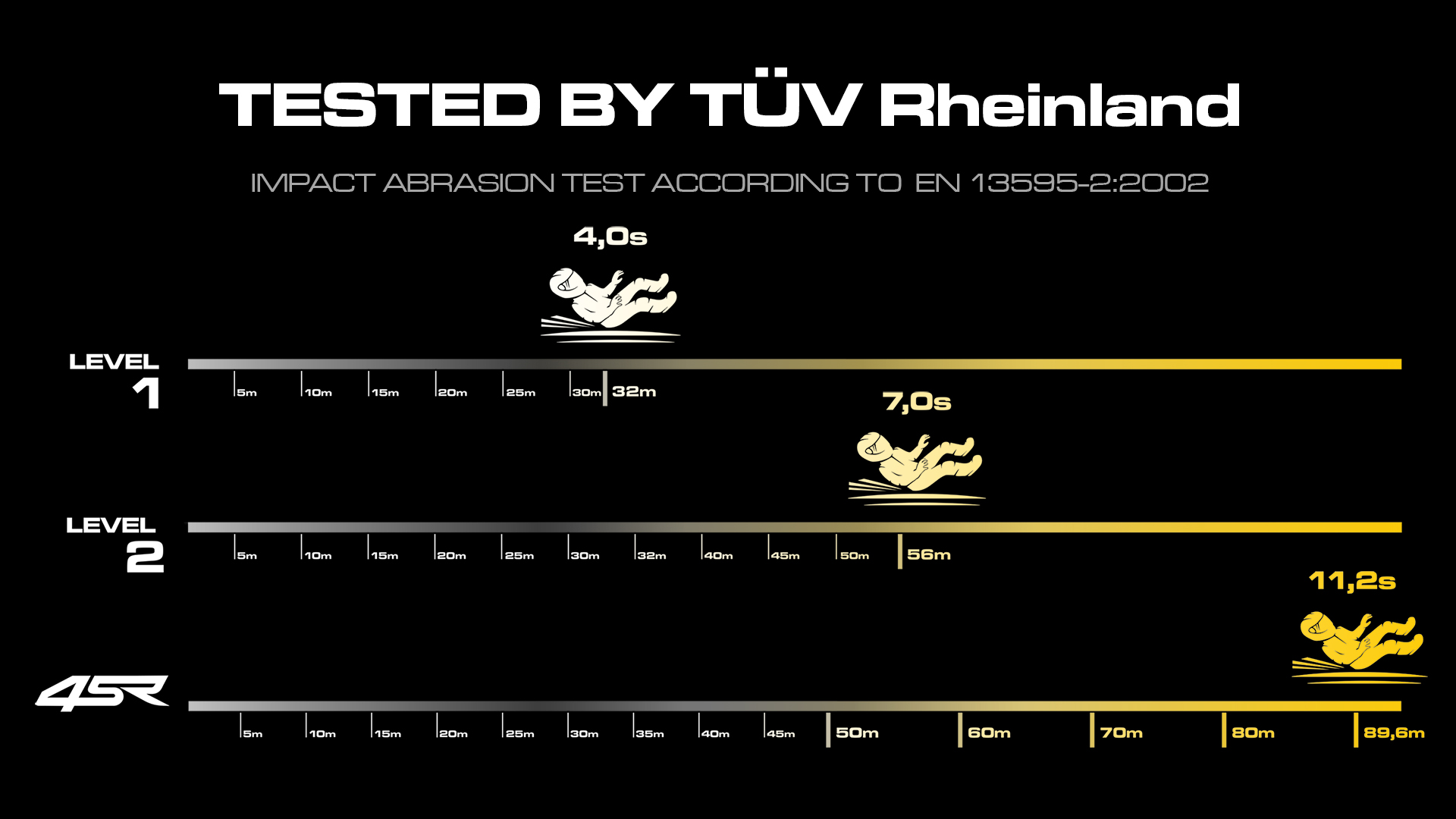 How did 4SR compare?
Test results showed that in a 4SR leather suit you can slide an impressive
89.6m
and that's just one layer of our leather, in the high impact areas such as shoulders, elbows and buttocks, we use two layers of leather. So, you could actually double the distance.
Furthermore, it also strengthens the argument that leather is the safest material for producing motorcycle clothing, even man-made fibres that are stronger than steel, will not match natural strengths of leather.