RR Evo Black Series AR
Are you into black? Want the highest level of safety? Than look no other way, we've just the thing for you! Black classic in a two-piece design ready for an airbag. In our new leathersuit you can enjoy both performance riding on the race track and the casual afternoon ride in jeans.
DRESS LIKE A PRO RIDER!
The materials, cut, and triple-stich sewing technique are based on our experience developing racing suits. At 4SR we do not differentiate between racing and customer suits, so this suit is made of the same quality leather, sewn with the same technology and equipped with the same protectors as the suits of our factory riders in WSBK, BSB or Moto America.
MADE FOR GRINDING THE ASPHALT!
The leathersuit is made of premium 1.2 mm thick cowhide leather and comes equipped with a total of 17 protectors. On the shoulders, elbows, knees and shins you will find comfortable Italian Betac protectors. Panels of memory foam sewn into the areas around the shoulders, collarbones, elbows, forearms, hips, base of the spine, knees and shins, absorb impact during falls and give another level of protection in case the leather is sand trough. The most exposed areas during falls – shoulders, elbows, buttocks and hips – contain extra layer of leather. All this is complemented by black sliders on the shoulders, elbows and knees. The suit can be equipped with a back and chest protector, or one of the airbag vests available on the market.
The pre-curved sleeves, forward-leaning shoulders, well-shaped knees, and seamless stretch in the crotch and underarms allow for a flawless riding position on a sportbike. The narrow sleeve cuffs do not impede wrist movement and allow the use of racing gloves. For greater comfort, the jacket is extended in the back part and can be easily attached to kevlar jeans or leather pants using long or short zipper. The suit is embroidered with 4SR logo and other decorative elements made of suede leather.

4SR two-piece leather suit RR Evo Black Series AR:
1,2 mm quality cowhide leather / black /
top quality protectors Betac® on shoulders, elbows, knees and shins, certificated in accordance with EN 1621-1:2012
Viscofoam® memory protectors on collarbones, forearms, base of the spine and hips
YKK® & OPTI® Zippers
aerodynamic hump with space for hydrobag
local perforation on the front, sides, and back
3D lining
extensive, seamless aramid stretch for maximum mobility
flexible, leather panels without restricting seams
extended back length – jacket can be worn separately
triple-stitch and the patented 4SR double seam used on more stressed areas
sleeve cuffs are made of soft aramid stretch fabric
comfortably designed collar with logo
stylish details made of suede leather
2 inner pockets
the jacket can be equipped with Sas-Tec® chest and spine protector
4SR elbow sliders
4SR knee sliders
the suit does not include an airbag systém, we will be happy to help you choose a suitable gear
AR suit is compatible with In&motion® airbag systems, Alpinestars Tech-Air®
if you wish, the leathers can be supplemented with an airbag data cable with control LEDs
AR Airbag Ready® is a trademark registered in the Industrial Property Office of the Czech Republic
What does 4SR have and others don't?:
You can attach the jacket from the two-piece suit to Motorcycle jeans
Two-piece suits are perforated on the sides
Aramid stretch under the armpits and crotch is seamless
Areas prone to abrasion are connected by a patented, double 4SR seam, which is sewn 4x!
4SR suits have two layers of leather on the elbows, shoulders, hips and seating area
4SR leather was tested by the TÜV Rheinland® certification center according to the EN 13595-2:2002 standard, where it withstood 11.2 s in the abrasion resistance test for which we received the Level 2 safety label
Don't stretch your body. Stay relaxed.
Chest

 

Waist

 

Hips

 

Arm 

 

Leg 

 

EU 46 - UK 36
89-92 cm
82-84 cm
93-95 cm
55-56 cm
70-71 cm
EU 48 - UK 38
93-96 cm
85-87 cm
96-98 cm
57-58 cm
72-73 cm
EU 50 - UK 40
97-100 cm
88-90 cm
99-101 cm
59-60 cm
74-75 cm
EU 52 - UK 42
101-104 cm
91-93 cm
102-104 cm
61-62 cm
76-77 cm
EU 54 - UK 44
105-108 cm
94-96 cm
105-107 cm
63-64 cm
78-79 cm
EU 56 - UK 46
109-112 cm
97-99 cm
108-110 cm
65-66 cm
80-81 cm
EU 58 - UK 48
113-116 cm
100-102 cm
111-113 cm
67-68 cm
82-83 cm

Motorbike suit should be tight.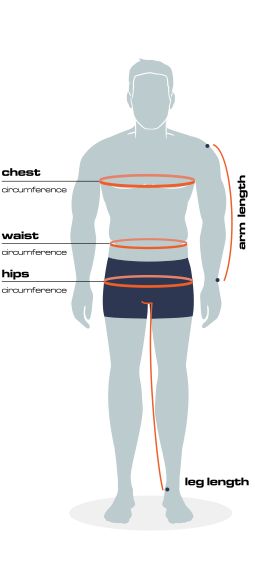 leather products wash by soft sponge and warm soap water
dust, dirt and insect remove promptly before it get dry
dry the garment unfolded away from heat sources and in a ventilated place
treat garment with leather balm
If the items are in stock, they are dispatched the following business day
If for any reason it not possible to meet the delivery deadline, we will inform you immediately
For shipping within the EU, we utilize courier services by GLS or UPS
Shipping within the EU is 5 EUR, the rate for shipping worldwide, will be calculated individually after the order is created
Next products in category Motorcycle Racing Suits